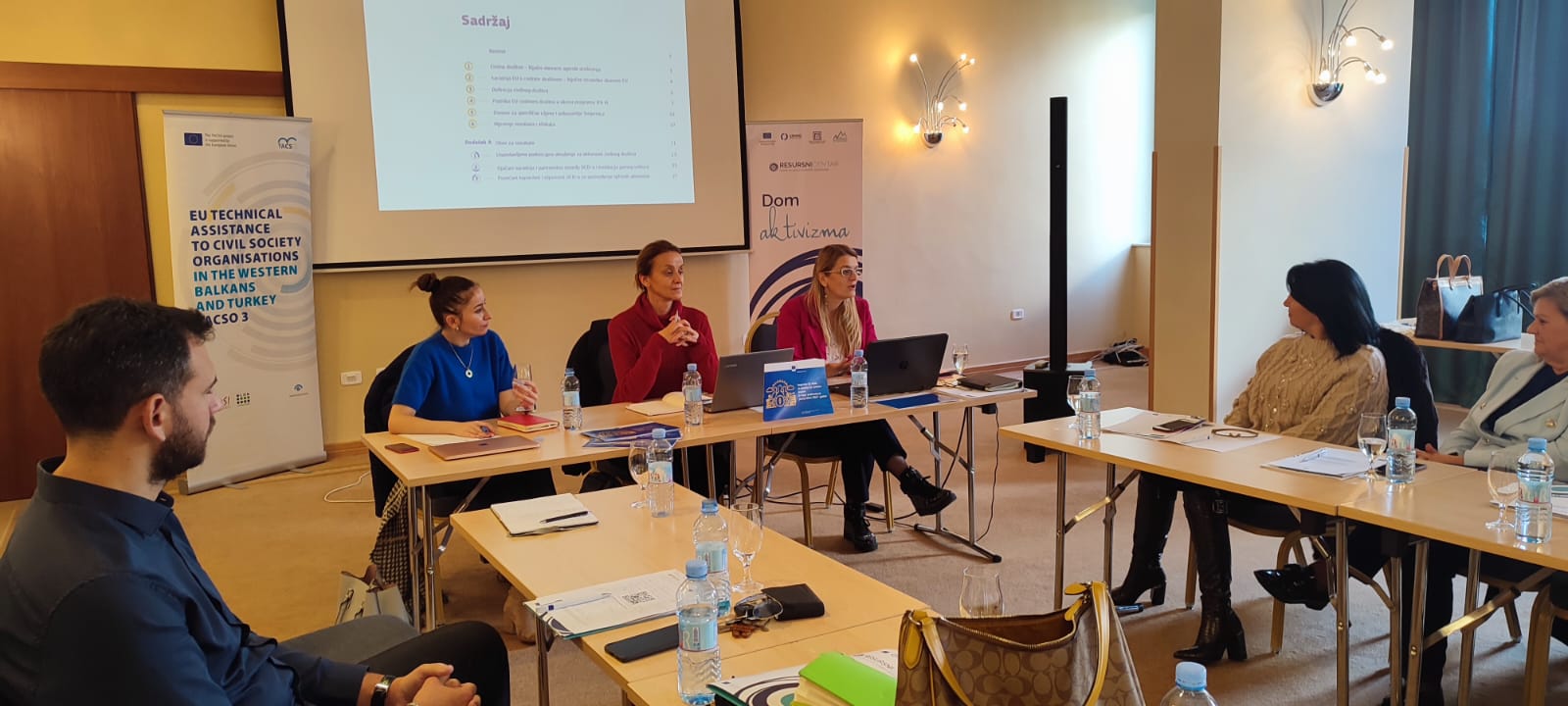 EU TACSO 3 project and Resource Center for Civil Society Organizations in Montenegro, with the support of the Delegation of the European Union in Montenegro, organised three presentations of DG NEAR Guidelines for EU Support to Civil Society in the Enlargement Region 2021-2027 and consultations regarding improvement of the current policy framework important for the work of the civil society.
Events gathered more than 80 participants, representatives of diverse CSOs, UNDP, OSCE etc. and have been organised in 3 cities:
for CSOs from the Central region of Montenegro and international organisations, on 24 October 2022, in the European House in Podgorica,
for CSOs from the Northern region of Montenegro on 18 November 2022 at the Assembly Hall of the Municipality of Bijelo Polje, and
for CSOs from the Southern region of Montenegro on 2 December 2022, in Bar.
The presentations of the Guidelines aimed to increase the understanding of the standards and recommendations that the EU framework provides in creating and implementing the national policies that ensure a favourable environment for the work of civil society organisations.
Furthermore, the participants were introduced to the most important elements of the Montenegrin new Strategy on the cooperation of the public administration and the non-governmental organisations 2022-2026, including the content of the Information on the implementation of the Law on non-governmental organisations and the work done by the Working group in charge for creating the new draft Law on NGOs, a process supported by the TA project to Government of Montenegro.
The presentation of the documents mentioned above served as a basis for a rich discussion on the situation in civil society and the most important elements that the new legal framework should address to ensure the effective work of CSOs and their active participation in policymaking. During the discussion, different thoughts were voiced regarding the general position of CSOs in society, the need for a more transparent allocation of public funds, and the better involvement of CSOs in the consultation process. CSOs shared that there are challenges in fundraising and ensuring the sustainability of their work, especially services to vulnerable groups. All participants agreed that it is important to ensure a conducive environment for civil society to carry out its activities, strengthen cooperation and partnership between CSOs and public institutions and reinforce CSO capacity and resilience to carry out their activities effectively.